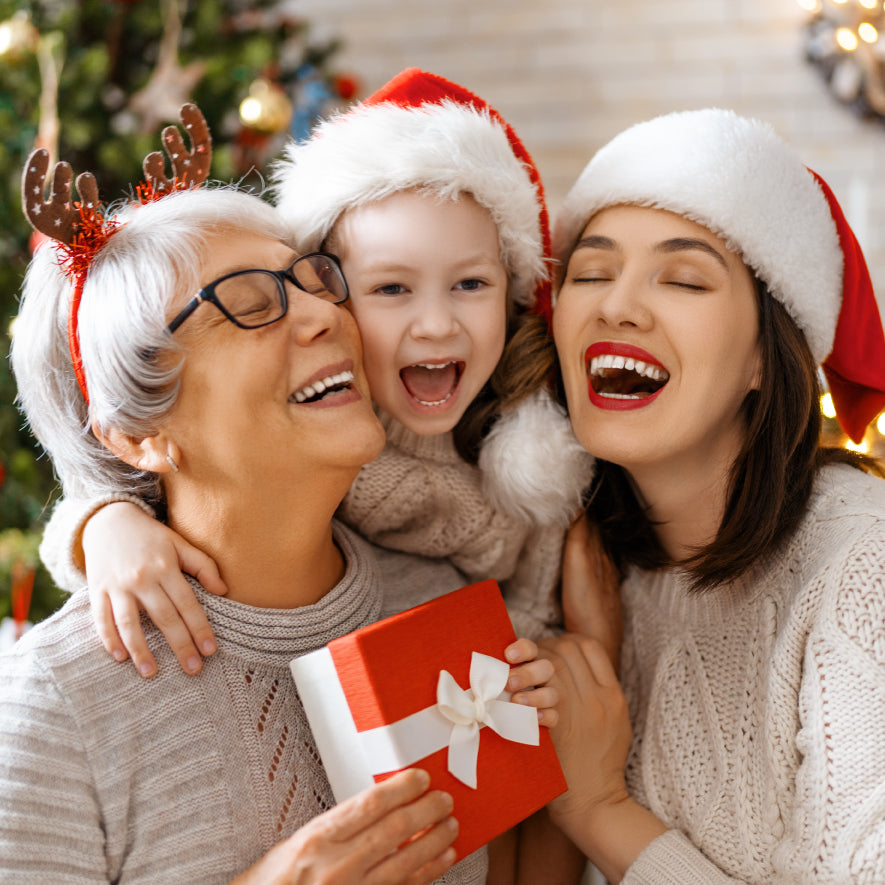 5 Creative Ideas for Christmas Gifts for Mom
Christmas may seem quite far away, but it's closer than you think. Once the rush starts, thousands of people will run to the shops to find something extra special for their loved ones. Such gifts are especially important to our moms.
It doesn't have to be a car or a house; they are pleased with every small thing we give them. But there's such a huge range of creative gifts. So where do you start?
First of all, think about what she loves and wants and usually moms love the family she has built, she celebrates her treasures with pictures of the family and memories. In this article we will go over our favorite personalized gifts for sweet moms. Here's our top picks for personalized presents that will definitely make your mother smile this Christmas.
Christmas presents are special, so why not make them personalized? Personalized gifts are super trendy right now because we finally have the resources to produce individualized gifts easily.
The following list contains creative gift ideas for one of the most loved people in your life.
TOP-5 Ideas for Christmas Gifts for Mom
Personalized presents are the most memorable. You can buy the most expensive gift or the least expensive gift, which both can be very useful. However, the recipient won't remember them nearly as much as a picture painted especially for them.
Here, we've chosen the 5 best personalized gifts for mom.
#1: Watercolor Portrait from a Photo
A personalized
watercolor portrait
can become the highlight of the holidays for your mother. With a custom watercolor portrait, you simply upload your photo to us and our artists get to work on transforming a regular photo into a digitally hand-painted watercolor painting.  We send to you for approval, from there it takes 24-48 hours to print on our premium gallery wrapped canvas material, and shipped to your front door in a few days! 
Some great ideas for pictures are:
Picture of her children;

Picture of her grandchildren;

A picture of her (recent or past photo);

A family photo;

Or even a photo of her favorite furry friend
Choose any picture that she finds memorable and turn it into a customized watercolor canvas she can hang on her walls and cherish forever. Just imagine the look on her face when she sees such a beautiful watercolor painting!
We do produce and ship fast but be sure to place your order in advance to be sure it's nestled safely under the tree in time. Holiday rush times are chaotic with the delivery companies so it's always best to order way ahead of time.  
2. Watercolor Pet Portrait
If your mom has a furry friend that she absolutely adores, then our watercolor pet portrait will definitely be a tearjerker! Pet lovers all over love to celebrate their favorite furry friend but getting a watercolor pet portrait of them is priceless! 
Having a professionally painted watercolor portrait of a loved one is a precious gift that will last forever. And our precious pets are little members of the family bringing a new meaning of joy to our lives.  It's no wonder we celebrate them with so much love and tenderness and this personalized gift is a great way to make mom happy.
So in honor of your mom's furry little companion, turn her favorite photo into a piece of art and you can be rest assured that your mom will love it for years to come.
3. Oil Painting of a Photo
If dear mom has always wanted a nice professional looking oil painting of the family without spending thousands, this is a beautiful gift for christmas!
It can be a picture of your mom and dad's wedding with their hands with rings on. You can also choose a favorite family picture, or even combine photos of different relatives into one oil painting!
Or maybe she loves her home and the memories built in that home.  Our artists can take a photo of the home and transform it into a rustic oil painting to really capture the beauty of her home. 
4. Cartoon Pet Portrait
How about a funny present? Choose the sweetest, cutest photo of your mother's pet and turn it into a cartoon style pet portrait. These will suit minimalistic home styles and become a nice piece of decor but personalized with her furry friend's cute little face.
You can choose the background color of the portrait as well as the color of the dog or cat, sometimes it looks good in full color or even black and white. It will become a very special gift because not only is it a recreation of a picture but a customized one, created especially for your mom.
Such gifts become increasingly popular during the holidays. So, it's better to place your order beforehand to give enough time for it to be completed and sent out to you in time for Christmas.
5. Pencil Sketched Portrait from a Photo
A
pencil drawing portrait
will also fit a minimalistic style where black and white shades prevail. You can also order a colorful portrait if B&W isn't your thing. But either way the pencil sketch look is a very elegant way to decorate your home with personalization.
Choose a very special photo as it will be a very special gift for mom this christmas.  Imagine her eyes lighting up when she sees an old photo of her creatively pencil sketched beautifully and printed on a premium artist grade canvas ready to hang on her walls! 
This drawing will become the most significant gift your mom receives. It's durable, provides a warm feeling of family connection and love to one another. A custom pencil portrait is a beautiful addition to any mom's home decor. 
How to Choose a Proper Christmas Gift for Mom 
Mom's are beautifully complex loving and nurturing creatures! They deserve the best gifts this christmas but sometimes we get stumped with the hustle and bustle of the holiday rush.  So we've put together a little guide of things to keep in mind as you're shopping for dear old mom, don't tell her we said old :) 
Have you heard the phrase it's the thought that counts? That couldn't be more true! When it comes to shopping for mom, a little bit of thought can go a long way, here's a few tips:
Think about what she likes


Maybe she has a favorite cat and would love a huge portrait of it in the living room? Or maybe she thinks about redecorating the house and some family pictures would look good on a bare wall. Remember all the things she likes about life in general, and consider giving her something she's wanted for a long time.

Ask directly


If you're not aiming for a surprise or your mom doesn't like them but likes practical gifts that she really wants, ask her directly. This is a much better approach than buying something and being afraid she won't like it. Talk to her, present your ideas and why you think those gifts will be suitable. Then, ask what the best option on the list would be. Or maybe she already knows what she wants and you don't have it in your ideas bag. 

Remember what you talked about


If you don't want to ask directly and would like to just surprise her with something special, remember the last time you talked. Maybe she mentioned something that you tried to remember but forgot. Ask someone you told about this conversation; chances are they can recall something. There are definitely things your mom would have told you about that would make her very happy this Christmas. Maybe it's a picture of herself back in the day? 

Ask her friends and other family members


Another great approach is talking to friends and family and gathering ideas. Many of them won't share what they are getting, just in case. But they can remember conversations and think about creative ideas you wouldn't come up with yourself. Find contacts of her friends, but make sure they don't tell her and ruin the surprise!

Go shopping together


A great way to see what your mom wants is to go shopping together. This is a great way to spend quality time with her and a method of spying on her wishes. Visit jewelry stores, boutiques, tech stores, even travel agencies "just because". See what she tries on or asks about. 
One of these will definitely help you create a list of gift ideas for several years ahead!
To Sum Up
A well thought out gift is the way to go this year and one of these gifts is guaranteed to make her smile.  Everytime she sees it hanging on the wall, it will remind her what a beautiful gift you gave her and how much thought you put into it.