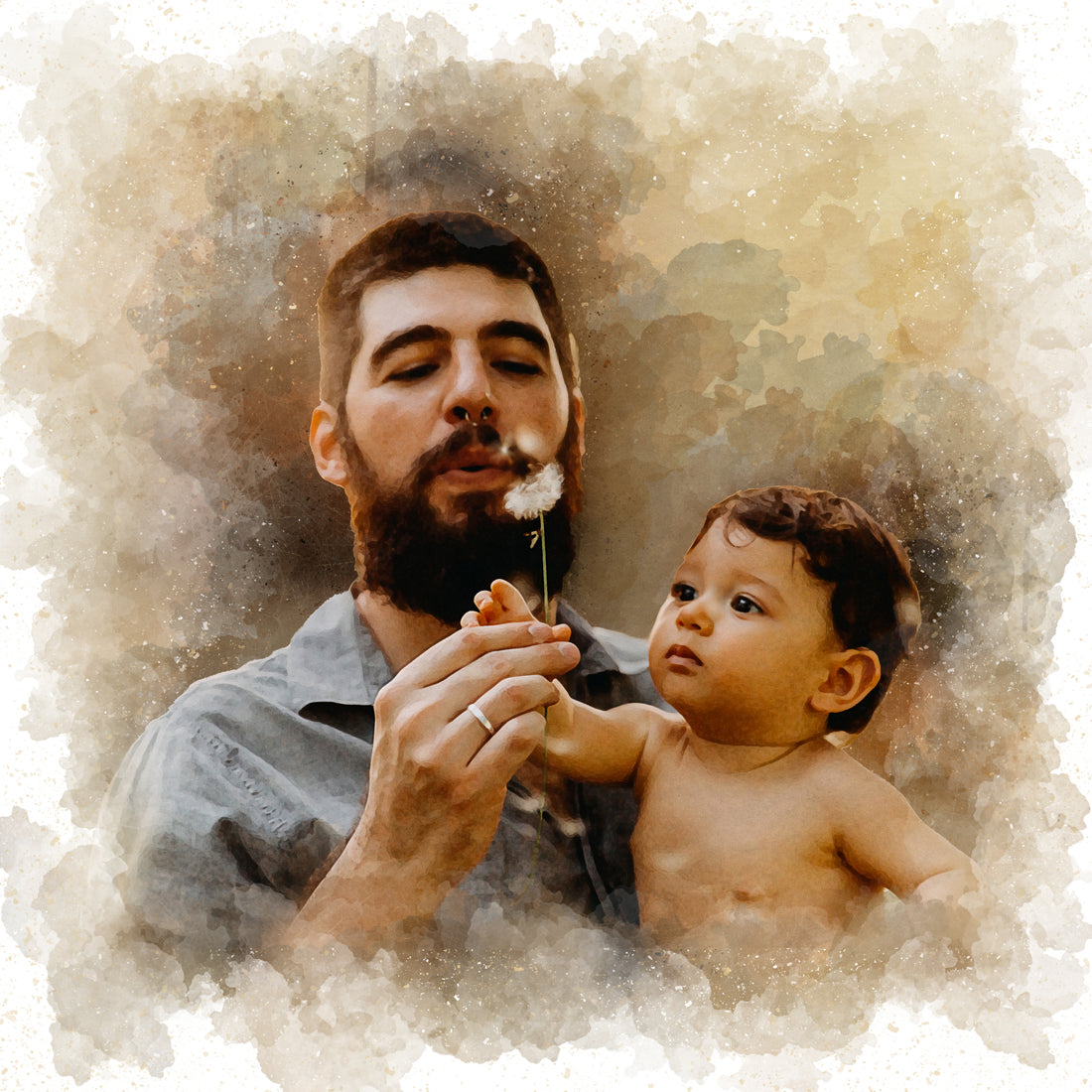 5 Sentimental Birthday Presents For Dad
Dad is the best and he deserves to be remembered with a sentimental gift on his birthday.  Lucky for you we have put together 5 of the best sentimental gifts that dad would love for his big day! 
Personalized gifts are trending as one of the most thoughtful and sentimental gifts because they really make an impact.  A sentimental gift is a well thought out gift that really expresses the care you put into it.  Here are the best
5 Sentimental Birthday Presents for Dad: 
Watercolor portrait from photo
Exactly how it sounds! Simple but a beautiful addition to the list as it's one of our customers favorite birthday presents for dad.  A beautiful way to capture the moment of any photo you have lying around of good ol' dad.  Send us the photo, select the size canvas you would like, and we send a preview in 2-3 days, ships out within 1-2 days! And the beauty of it speaks for itself.
Personalize yours here. 
Pencil Sketched Portrait
Another beautiful and artistic way to capture dad's greatest moments on his birthday.  You send in your photo and our artists get to work and sketch the portrait in charcoal or color.  Dad's love this one as a great birthday gift to hang in his garage or tool shed.  Or possibly the whole family together in a big family sketched portrait to hang in the living room.  We print the final sketch on a gallery wrapped artists canvas and ship it 1-2 days after you approve!
Personalize yours now.
Watercolor Portrait on Soft Plush Blanket
Now you can get the beautiful watercolor portrait hand painted by our artists and printed on a beautifully soft plush blanket! For those dads that want to cozy up with the loves of his life printed on a warm fuzzy blanket then this is the Perfect birthday present for dad! Send us your photo and we create a beautiful custom watercolor painting, once you approve, we print it and ship it to the soon to be very happy dad!
Personalize your blanket here. 
Dad Collage Canvas
A great birthday present for dad as it commemorates his past memories into a collage in the shape of the letters DAD.  You can personalize it by sending us the images and our designers strategically place the images carefully and place it on a wood background color of your choice.  We then print it and ship it out.  A wonderful birthday present for dad!
Upload photos here.
Cartoon Pet Portrait from Photo
This one is a big hit for dad birthday gifts, dads everywhere that have a best friend love a portrait of their furry bud.  Whether it's a cat or dog or even a parrot! You send us the picture and our artists digitally hand paint the portrait to capture the sharpest features of his best bud.  Then we print it on a fine artists gallery wrapped canvas (all canvases come with free hanging kit).  
And these were our top picks for best sentimental
birthday presents for dad
on his big day.  We wish you and your dad's health and happiness!
Cartoonize your pet here.