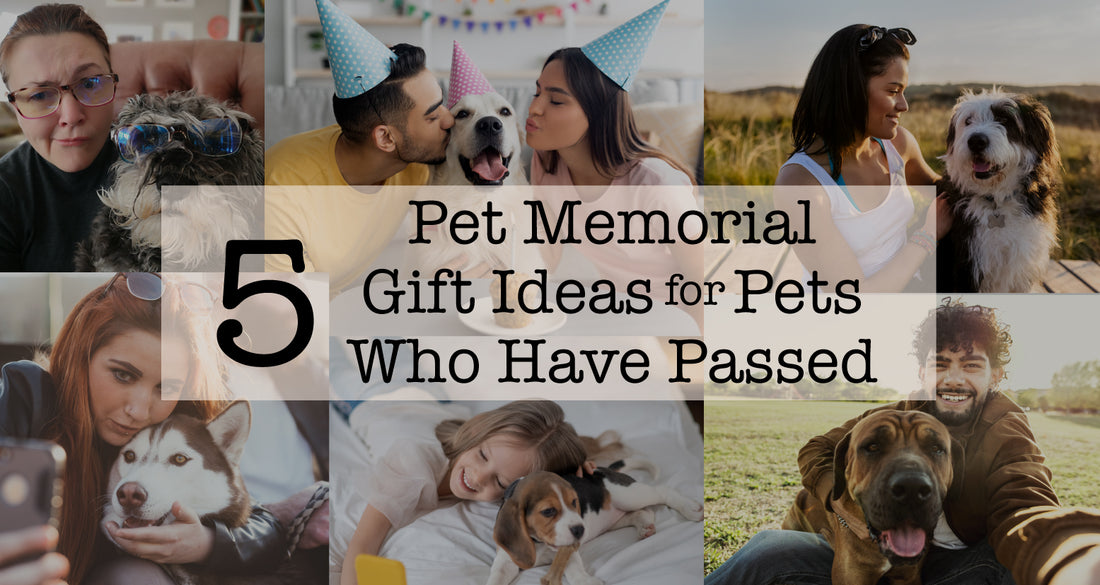 Best Pet Memorial Gift Ideas for Pets Who Have Passed
Any pet owner will tell you that their pet is family.  Since the beginning of mankind, pets were always there to walk by our side in the path of life.
Unfortunately their path ends sooner than ours but our love for them will always remain and remembering them can also be a great celebration of their life and legacy.
Gifts for pets that have died can range from a lot of different items such as: stuffed toys, blankets, food bowls, leashes, collars, and other items that will remind you of your pet.
However, we will go over some Pet Memorial Gifts that are Truly unique and guaranteed to memorialize your furry friend better than any other gift you can find. 
Here are our top 5 picks for the Best Pet Memorial Gift Ideas for Pets who have passed?
Watercolor Pet Portrait On Canvas
If you're looking for a pet memorial gift more unique than a traditional framed photo, consider getting a watercolor portrait of your pet.
There are few art styles that capture the moment so beautifully as a watercolor painting. Watercolors really bring the moment to life in a very poetic and beautiful way. 
This type of art is often used as a keepsake for people who have lost loved ones, so it's a very thoughtful gift idea for someone who is struggling with their loss.
Watercolor portraits really capture the moment of your favorite photograph of your precious furbaby. 
At HomeHaps, we take an already beautiful photo and focus on the beautiful moment with each poetic brush stroke, we bring that beautiful moment to life.
We then print it on a premium gallery wrapped canvas, package it up safely and ship it securely to your front door in a few days!
A true sentimental gift guaranteed to be cherished for life.  
Personalized Pencil Sketch Portrait On Canvas
Another option is to get a custom pencil sketch of your pet. Sketched portraits are a great way to take the memory of your pet and artistically enhance their memory. 
Our artists skillfully take the photo of your pet and sketch all their best details with each pencil sketch. 
Keeping the memory of your pet alive for a long time can really be expressed with a custom sketched pet portrait. 
Also printed on premium gallery wrapped canvas material with inks made to last over 200 plus years, this is sure to keep the precious memory alive for a long time to come. 
If you prefer something more whimsical and sharp, a cartoonized pet portrait is a great way to bring the memory of your pet to life! Our artists capture all the best features of your lost loved one and digitally enhance and colorize them on a clean white background or another color of your choice.  
Cartoon drawings of pet portraits have been trending for a while but our artists really focus on the true to life features of the subject so it looks ultra realistic.  
Even just thinking of your pet brings a smile to your face but seeing their beautiful face on your wall day after day is a great way to memorialize them constantly. 
If you or a loved one has recently lost a pet, this cartoon pet portrait from HomeHaps is a great way to celebrate their life and the memory they left behind.  
Watercolor Pet Portrait on Soft Fleece Blanket
These items make wonderful gifts for pets who have passed away. They are easy to give as well, as they are super soft and fold away.  Our watercolor portrait on a fleece blanket is sure to bring a smile to the recipient.  
Having a blanket beautifully painted with their favorite furry friend's memory is sure to keep them smiling each time they use the blanket.  
Fleece is a cozy, soft material woven and brushed for a super soft and warm feeling each time you use it.  Even as just a blanket, its a great gift but then to have it personalized with a watercolor portrait printed right on the blanket makes it a super memorial gift they will never want to stop using.  
It will be a cherished piece for a lifetime whether they use it or drape it over a couch to showcase the larger than life image of their passed loved one.  
Watercolor Pet Portrait On Coffee Mug
And if a blanket isn't really their thing, some people live and breathe with their coffee mug close by at all times!  They just love to have funny sayings or pictures on their mug. 
This coffee mug features a watercolor portrait of their pet. It will remind them of their loved one every morning when they drink your coffee.
And it will remind them each morning of what a great gift it is to see the face of their loved one watercolor painted right on their mug to celebrate the life and memory they left behind. 
Made from premium materials and inks guaranteed not to fade for a lifetime, a watercolor portrait printed on a premium coffee mug is a great gift for the memorial of their lost furbaby. 
Conclusion
And that's our 5 best Pet Memorial Gift Ideas that we feel are sure to bring a smile and a tear to your loved ones face.  Next time you or a loved one wants to celebrate their pet, keep in mind, personalized gifts are the best gift to give.  
Our staff work hard to make the memory stay alive for a long time to come.  Get started by following the link below and upload your photo.  Or you can open a chat with us at any time. 
For other great Gift Ideas, check out our article on The Most Thoughtful Gift Ideas for Couples