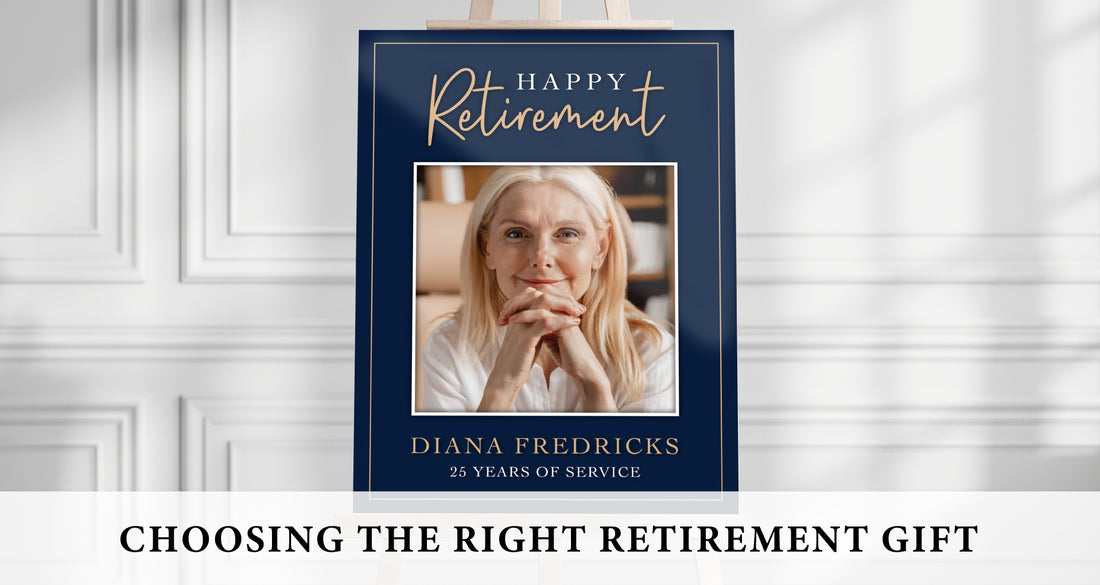 Choosing the Right Retirement Gift: A Helpful Guide
Introduction: Understanding the Importance of Retirement Gifts
Retirement is a significant milestone in one's life that marks the culmination of years of hard work and dedication. It is a time for celebration and recognition. An essential part of this recognition is the giving of retirement gifts. These gifts are more than just material objects; they're a symbol of appreciation and respect for the retiree's service and commitment. They can also serve as a meaningful reminder of their career and the relationships formed over the years. Choosing the right retirement gift is crucial as it can help commemorate this important life transition and convey your heartfelt sentiments. This guide will provide you with helpful tips to make that choice easier.
Know the Retiree: Personalizing Your Retirement Gift
Personalizing a retirement gift is a thoughtful way to honor the retiree's unique journey and achievements. Whether it's a custom-made piece of art, a photo album filled with cherished memories, or an engraved item with a heartfelt message, tailoring the gift to the retiree's interests and experiences adds a special touch to the gesture. It shows that you've taken the time to consider their individuality and celebrate their transition into this new phase of life, making the retirement gift even more meaningful and memorable.
Budget Considerations: How Much Should You Spend on a Retirement Gift?
Budget considerations play a crucial role when deciding on a retirement gift. The amount you should spend largely depends on your relationship with the retiree. If they are a close friend or family member, you might want to spend more than if they are a coworker or an acquaintance. On average, people spend between $10 to $50 on retirement gifts for colleagues. However, for someone special, you might want to consider a higher budget. Always remember, the thought and sentiment behind the gift are more important than the price tag. It's about commemorating their years of service and wishing them well for the next stage of their life.
Retirement Gifts for Women: Top Choices and Ideas
Finding the perfect retirement gift for women can be a delightful process if you consider her interests and lifestyle. Top choices often include personalized jewelry, luxury spa sets, or custom-made artwork. If she loves reading, consider a collection of books by her favorite author. For those who enjoy gardening, a high-quality gardening set could be an ideal gift. If she's planning to travel during retirement, a world map to mark her adventures or a stylish travel bag could be a fantastic idea. Remember, the best retirement gift is something that shows your appreciation and matches her post-retirement plans.
Retirement Gifts for Men: Diverse Selections to Consider
When it comes to choosing retirement gifts for men, a diverse selection is available to consider. Think about the retiree's interests and hobbies. If they love golf, a new set of clubs or a golf experience day could be perfect. For the wine connoisseur, consider a vintage bottle or a wine tasting tour. Tech-savvy retirees might appreciate the latest gadget, while those who enjoy relaxation might like a hammock or a comfortable recliner. Personalized gifts, like a custom-made watercolor portrait or a name-engraved pen, can also make a retiree feel special and appreciated. The key is to select a gift that aligns with their personality and interests, ensuring it's something they'll cherish in their golden years.
Unique Retirement Gift Ideas: Thinking Outside the Box
When it comes to unique retirement gift ideas, thinking outside the box can result in truly memorable tokens of appreciation. Consider gifts like personalized travel maps to inspire post-retirement adventures, a customized caricature capturing the retiree's personality, or a subscription to a hobby or interest-based service. You can also explore experiences such as hot air balloon rides, cooking classes, or spa retreats. These unconventional gifts are not only thoughtful but also offer the retiree exciting new experiences and opportunities to enjoy their retirement to the fullest.
Sentimental Retirement Gifts: Making the Moment Memorable
Sentimental retirement gifts hold a special place in the hearts of retirees. These gifts are often deeply personal and are meant to evoke cherished memories. Consider creating a photo album filled with pictures from the retiree's career or life milestones. Personalized items like engraved jewelry, a custom-made quilt, or a heartfelt letter expressing gratitude can also make for beautiful sentimental gifts. The aim is to create a lasting impression and celebrate the retiree's journey with a heartfelt gesture that reflects the shared moments and emotions.
Practical Retirement Gifts: Useful Items for the New Chapter
Practical retirement gifts focus on making the transition to retired life smoother and more enjoyable. These gifts are often geared towards the retiree's hobbies or plans. Consider items like gardening tools for an aspiring gardener, a high-quality travel backpack for someone planning to explore the world, or a cozy reading chair for the book lover. The idea is to provide something that aligns with their interests and enhances their everyday life during retirement. Practical gifts show that you've thought about the retiree's needs and aspirations as they enter this new chapter.
DIY Retirement Gifts: Adding a Personal Touch
DIY retirement gifts are a heartfelt way to add a personal touch to your present. Crafting a gift yourself allows you to create something unique and meaningful, tailored to the retiree's personality and interests. Whether it's a handcrafted photo album, a custom-made piece of artwork, or a scrapbook filled with memories and well-wishes, a DIY retirement gift shows your thoughtfulness and effort in celebrating this special occasion. It's a way to express your appreciation and best wishes in a personalized and creative manner.
Wrap-Up: Final Tips for Choosing the Perfect Retirement Gift.
In conclusion, when choosing the perfect retirement gift, consider the retiree's preferences, interests, and personality. Whether you opt for a sentimental keepsake, a practical item, a DIY creation, or a unique, personalized gift, the key is to show your appreciation and celebrate the retiree's journey into this exciting new chapter of life. Tailoring your gift to their individual tastes and aspirations will ensure it's cherished and remembered for years to come.
For Retirement Gifts and Party Decorations, check out our Retirement Collection