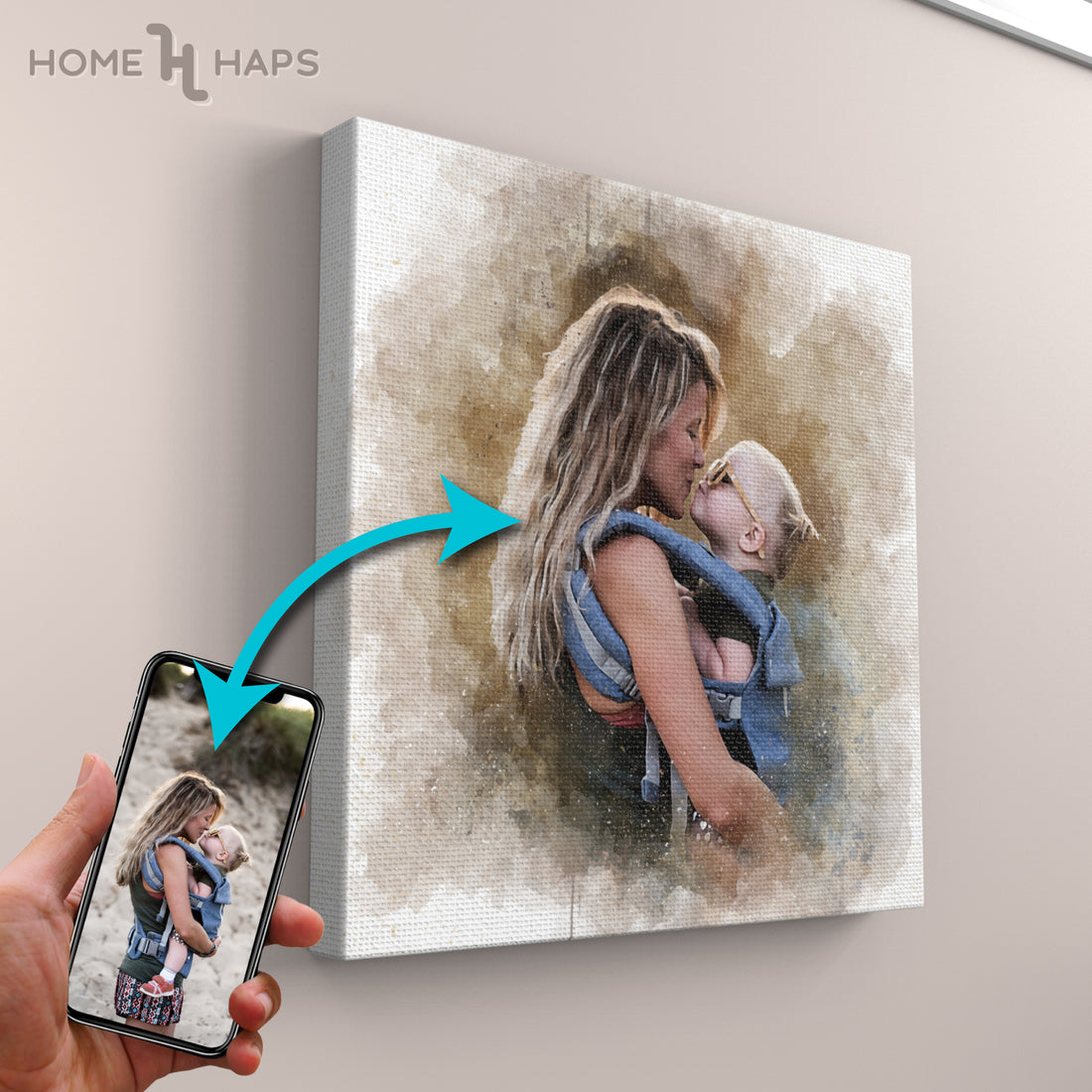 Custom Watercolor Painting From Photo - The Perfect Gift
If you're looking for that one perfect gift that will make them get all sappy, this is the Perfect gift for any occasion! A custom watercolor painting is sure to be a jaw dropper, you can literally transform any photo into a work of art and printed on a premium quality canvas with a free hanging kit, it prints and ships in a matter of days anywhere in the USA.  
Let's dive in to find out more about this unique custom watercolor painting.  
In the last decade or so, personalized gifts have reached new heights in gifting trends.  From star maps to acrylic portraits to faces on your socks! Some personalized gifts tend to be novel and cute while others really touch home and get very sentimental.  
The custom watercolor painting is a great example of sentimental gifts. Everyone loves to see a photo of themselves, and to get a photo printed on a canvas is a pretty big deal too.  However, transforming that photo into art is yet another great step in capturing the moment in the photograph.  And we have seen some of the most beautiful moments once they were transformed with watercolor paint surrounding the subjects.  Here's a few of our favorites: 
Here is a beautiful custom watercolor painting of a mom and baby girl which really captures the moment more so than the photograph could capture alone. 
Another custom watercolor painting which beautifully captures the moment with a father and daughter photograph. 
Our furry little friends always make a great custom watercolor painting for all the dog lovers out there that love and cherish their little pride and joy. 
Here's another beautiful custom watercolor painting of majestic looking cats surrounded by clouds of watercolor, really making it an art piece when hung on the wall! 
Capturing the moment
One of the most important objectives of our custom watercolor paintings is to capture the moment.  This is what makes it worthy to hang on the wall for many years to come if not forever! Our artists take alot of time to perfectly center "the moment" on the canvas, then begin cutting out the subject from the background to remove background noise.  Then the next step is to cloud the subjects with a beautiful watercoloring of the existing colors.  Then it is faded to the last few watercolor drops near the edges of the canvas to give the portrait a bold and robust color fading.  
It is a delicate process that takes our artists a long time to perfect.  Each piece that we send out is not only sentimental because of the people or pets that are in the portrait but also the care that goes into making it.  It is after all a custom watercolor painting so there's never a duplicate made, it's not produced many times, just one time for that one customer. 
Time Frame
Typically we send previews of the custom watercolor painting in about 2-3 days.  Even during holiday rush times, we still maintain this schedule.  Then once the customer approves the preview (usually after wiping away tears) We send it to print.  Each canvas is printed on flat premium artist grade canvas material, then stretched tightly and stapled over a durable long lasting 1.5 inch deep MDF stretcher frame.  This entire process takes us no more than 1-2 business days.  Then the final step is scheduling the shipping, which we have 3 shipping methods to choose from: 
Standard Shipping: 5-7 business days to arrive

2 day Expedited: 2 business days to arrive

Next Day Expedited Shipping: 1 business day to arrive
So the whole process from purchase to receiving with standard shipping is about 10 days which is not bad for a very personalized gift. But also its about 5 days with expedited shipping which is great!
Guarantees and returns
We love to make people happy with our custom watercolor paintings so if anything at all happens in transit and the painting gets damaged for any reason, we rush out a brand new one at no cost to the customer. We don't really like to entertain returns as you can imagine. Our artists spend alot of time and creative energy as well as care to put together these masterpieces so we try our best to fix the situation rather than return it.
5 star reviews and feedback
Our customers absolutely LOVE their results and the reviews is what proves it. We haven had some of the most beautiful reviews and experiences dealing with these custom watercolor paintings. See below for some of our favorite reviews:
And there you have it, the custom watercolor painting is our favorite gift to give for pretty much all occasions. Visit us today to get yours printed and shipped and you will be as amazed as all of our customers! 
https://www.homehaps.com/products/custom-watercolor-canvas-portrait-from-photo