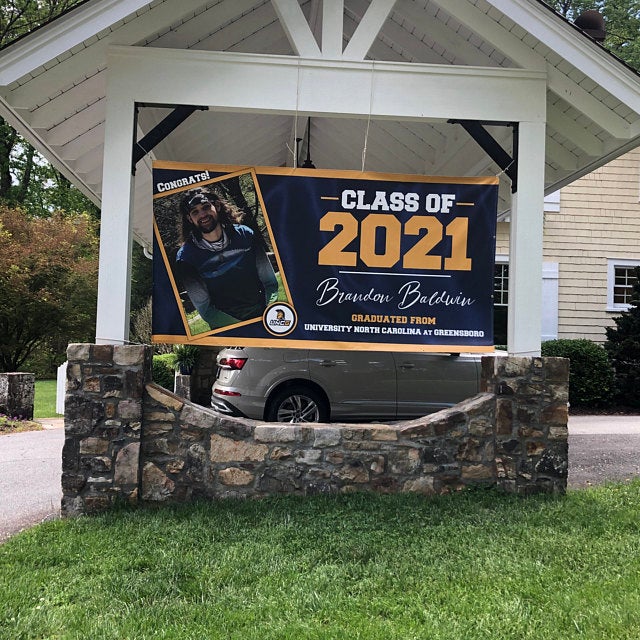 Graduation Banner - Celebrate your Grad in 2022
Do you have a special graduation from high school or college coming up for your child or loved one? Then you're likely feeling many emotions. Pride, nostalgia, joy, and so much more — they're all coming together to make for one fantastic moment for the student in your life and yourself. 
Whether the graduate in your life is your child, grandchild, niece, nephew, brother, or sister, you want to show them just how proud you are of them and their accomplishments. And there's no better way to express how proud you are of them than to celebrate them on their big day! That's exactly what you get when you order graduation banners personalized. 
Want to learn more about what a personalized graduation banner can do for this meaningful milestone? Read on about how you can bring any graduation celebration to the next level. 
Personalize your graduation banner here!
What is a Personalized Graduation Banner?
While you can find party decorations for many occasions, a personalized graduation banner is uniquely designed to show off your graduate and their accomplishments on one of the most important days of their life. 
A Graduation from high school will never come again, and for those completing a college or graduate degree, this is a day to reflect on all the hard work a student has put in to learn and grow. So don't let this event go by unnoticed. 
With a personalized graduation banner, you can add your grads name, school name, year of graduation, the school logo and even their picture to make it memorable for them on their big day.
Why Get a Graduation Banner Personalized?
A bright, colorful banner is always welcome if you're hosting a gathering with friends and family to celebrate their graduation day. But why just have some letters put up that say "Graduation Day" when you could have a graduation banner personalized to your grad? 
You can get their smiling face on the banner, their school colors, and make it feel like even more of an event than it already does. 
How to Create Your Personalized Graduation Banner
You know your child would love a personalized graduation banner. But how do you get it for them? 
Well to get started we recommend going through our list of graduation banners and choosing the perfect design for your grad.
And to help you along the process, here are some things to look out for when choosing the perfect personalized graduation banner for your grad: 
Size
There are many places your graduation banner can be hung. So based on that, you'll want to look for different sizes. 
For example, you can find a custom graduation banner as small as 4 feet by 2 feet. This size is perfect for displaying at the ceremony and holding in pictures with your graduate. There are also much larger sizes, such as a 10 foot by 5 foot. Hang it in front of your garage and let all your neighbors know just how proud you are. Then there are the sizes in between. That are perfect for hanging outside in the back yard or in the house as the centerpiece for the party. With so many options, you can find exactly what works best for your celebration. 
Photo
A photo of your grad is the perfect way to upgrade a graduation banner. And there's no one else like your grad, and a graduation banner with a photo shows just that. We have several graduation banners to choose from that include an image and you can easily upload the picture. 
Personalize your graduation banner here!
But how do you choose the perfect photo? First, you'll want to make sure that the picture you upload is a high-quality image. There isn't much that even experts can do to fix a low-quality image and to make sure it prints without any blurriness this is a very important tip to remember. 
Next, consider whether you want your graduate in their cap and gown or just a nice recent photo of them. You may have already ordered professional photos of your graduate from their school. These are a great choice to go with the theme of the day. 
Didn't order the pro shots? No problem! There are many tips and tricks for shooting high-quality pictures, even on a smartphone. Have your child dress up in their cap and gown or their favorite outfit. 
School Colors and Name
By getting graduation banners personalized to not only your child but their school colors as well, you're sharing exactly what they have accomplished and why there's such a good reason to celebrate. So do a little digging to figure out their school's colors, and custom design the banner to show school pride. 
Where to Hang Your Graduation Banner?
There are many places you can hang a personalized graduation banner. Everywhere from the private to the loud and proud, here are some ideas for where you can hang the banner: 
Inside your home
In front of a garage
On a porch
On the side of a car
In a yard
On a door
On a window
And as a bonus you can get some great photos of your grad with their banner at the event. 
Graduation from High School or College
Whether your loved one is celebrating a graduation from high school or college, it's a big day. Thankfully, these decorations are perfect for a graduation from high school or college. You can even get it personalized for graduations from Kindergarten to college.
You can ensure that each banner reflects your grads accomplishments with the customizations available. 
What Makes a Good Graduation Banner?
Not all banners are created equal. Sometimes, online vendors promise you the world at an affordable price, and all you get is a glorified sign. That won't do for your grad's special day. 
So if you're looking for a high-quality graduation banner that will be the hit of the day, check out our grad banners that will sure be the talk of the party!
Waterproof
Graduation days go on, come rain or shine. That's why you need a graduation banner that can stand up to it all. So before you buy, make sure your personalized graduation banner is weatherproof. 
This is especially important if your graduation banner is hung outside. This is not only essential for withstanding rain and weather, but also for cleaning. Waterproof material can quickly be washed without tarnishing the print if the banner gets dirty outside. 
UV Safe
When you customize a banner with your child's name, school colors, and photo, you want it to look great. However, the sun's harsh rays can discolor and damage low-quality materials. And no one wants a bleached-out photo come graduation day. 
If your banner will be outside or near a window, it needs to be UV-ray protected. That way, it will look fresh and vibrant from delivery day until you take it down. 
Vibrant Colors
Graduation from high school or college is a joyous occasion — and that's why we make sure our banners are printed with only the highest quality ink to make sure the colors of the banner are super vibrant. 
High-Quality Grommets (Material and Placement)
Grommets are the holes that allow you to hang your graduation banner. They may seem like a minor detail but are vital for correctly hanging and protecting your banner.
If grommets aren't correctly applied, then a rope will pull up, while the banner's weight will pull down. This could cause damage to the material, cutting short the life and quality of your banner. 
You'll also want to make sure they're conveniently located on the banner. If your grommets are only at the corners of a large piece, this could cause undue stress on the material and make it harder to fasten securely, especially for cars. With our banners we ensure that the grommets are placed every 2 feet to ensure perfect hanging. 
Previews Included
We understand how important this day is for your grad so we make sure to provide previews 1-2 days after receiving your order so that you can make sure the grad banner comes out perfectly.
Order Your Own Graduation Banners Personalized
Of course, you can walk into any party store and get a sign that says "Graduate". But if you want your student to know how proud you are of their accomplishments and even let the whole world know, generic just won't cut it. 
When you get graduation banners personalized, you're making a memory. These are the centerpiece of any graduate's celebration, and they will remind you of that special day forever. 
Are you ready to give your student something unique to show them how much they mean to you? Get your graduation banner personalized today with one of our many banners to choose from.