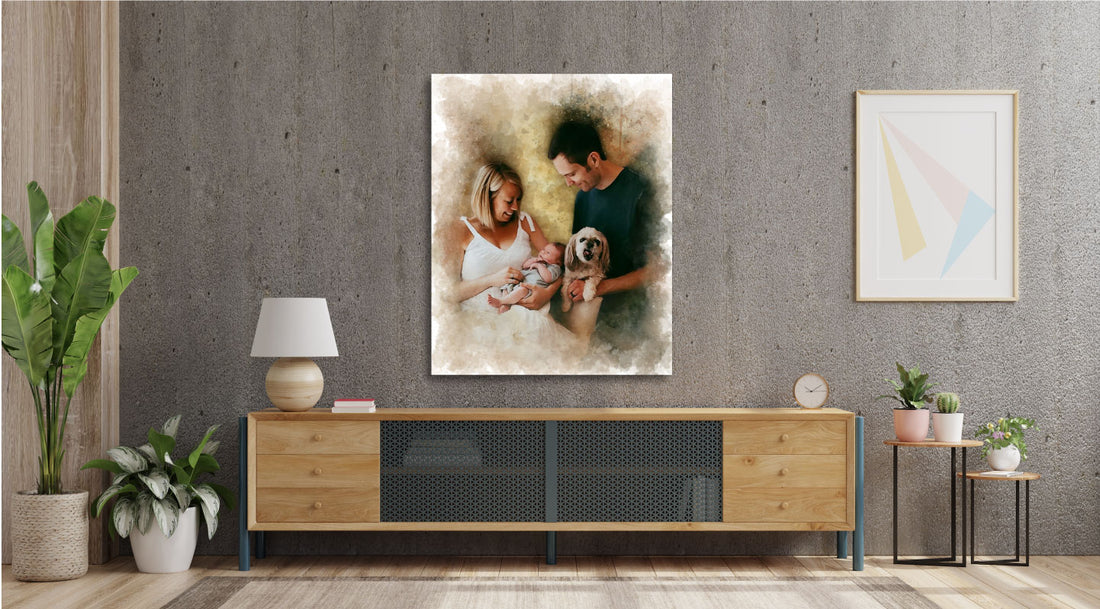 Personalize Your Home Decor with a Watercolor Portrait
Finding the right gift for your loved ones can be difficult. You want to get them something personalized, something you know they'll love. 
As year after year goes by, you have to be more and more creative and come up with all kinds of unique ideas. Such a stressful task can almost take the joy out of gift-giving!
A photograph of a special moment or memory sounds like a good idea for personalization, but it's not very original and seems like a relatively low-effort gift. Luckily, HomeHaps has the solution for you!
This company can take your family photos or other beloved images and turn them into beautiful watercolor portraits. These products are perfect as presents for family members and friends, and they make great personalized home decor as well.
Read on below to learn all about how you can get a custom watercolor portrait made from your favorite personal photos. 
Why Do You Need a Custom Watercolor Portrait?
This product is the perfect way to turn a personal photograph with special meaning for you and your loved ones into a unique work of art. Not only does it elevate a simple picture into a creative production with more style and attention to detail, but you can also use it for a variety of purposes.  
Let's take a look at the two main reasons you should turn one of your favorite photos into a custom watercolor portrait today.
Take Your Home Decor to the Next Level 
Traditional family photos are a great way to brighten up a living space. These captured moments make your home feel more lived-in and personal to you. But when your pictures have been transformed into beautiful paintings - full of vibrant colors and artistic flair - it takes the whole ensemble to the next level.
All of your house guests are sure to be impressed when they see you and your family members represented in a stunning custom watercolor portrait when they visit your home.
Give the Perfect Personalized Gift to Your Friends and Relatives 
These products aren't just great for brightening your home decor. They also make lovely presents for your loved ones for any special occasion! A custom watercolor portrait made from a carefully selected photograph could be the perfect personalized gift for the one you hold dear.  
The unique nature of these products shows the gift recipient how much you care, especially if the work of art is made from a photo that holds meaning to both of you. There's really no better personalized gift option available on the market than this.
What Sort of Photos Should You Choose?
The essence of a good personalized gift all comes down to how well it relates to the recipient. A photograph or watercolor image of your family should commemorate something significant enough to warrant its place in your living space. Additionally, it'll need to fit in with your home's aesthetic.  
There is a subtle art to choosing the right pictures for each of these purposes. Luckily, we are here to give you some helpful advice. Let's go over three kinds of photos that are perfect for converting into custom watercolor portraits.
Family Photos 
A photo of every member of your immediate family all together is the absolute perfect piece of home decor for your living room. By converting the photo into a marvelous watercolor portrait, you can imbue it with a further sense of significance, as it will have taken on more artistic qualities and been elevated into a more impressive display. 
To choose the best one, consider the color and light themes present in the picture and your living space. This will help it blend beautifully into your life. 
School Portraits
A beautiful watercolor portrait made from a school photo is the perfect way to commemorate someone's academic achievements or keep track of their growth over the years. Choosing this option is a unique, creative gift to give to your hardworking student or the long-distance family members who love them. 
There's no better way to elevate a simple school portrait to a higher artistic level than by having it converted into a gorgeous painting and displaying it in the home with pride.
Photos from Memorable Events 
Worthwhile events take place in all corners of your life - and they occasionally lead to candid moments captured on camera. You can bring new life to those precious memories with your loved ones by turning them into watercolor portraits. The world is your oyster with this option. A photo of you and your husband from your wedding is an incredible personalized gift for him. But you can also select one from a birthday, vacation - any moment you hold dear. 
The receiver will appreciate seeing those memories brought to life one more. You may even want to give them a tissue or two. 
How Large are the Portraits?
These watercolor portraits are available in a wide variety of different sizes to meet every customer's specific needs. Whether you prefer something small and understated, something moderate, or something large and grand that makes a statement, HomeHaps can give you the exact size you need.
With twelve different sizing options ranging from 8 inches by 10 inches to 32 inches by 48 inches, there's sure to be a canvas available to satisfy every client. You can even get a digital version to print on your own!
What is the Canvas Quality Like?
For canvas prints, the portraits will be printed on a white semi-gloss artist canvas of the desired dimensions. The canvases are stretched over a premium MDF frame one and a half inches deep, so you can be sure the work is sturdy. Plus, it even comes with its own hanging kit, so you won't have to go out and buy anything else to install it in your home.  
Such a beautiful work of art on such a sturdy canvas is sure to make a high-quality gift or wall art for your home. 
How Do You Place an Order?
Now that you know all about these wonderful products, you're surely ready to order a custom watercolor portrait of your own. The process is quite simple, but we'll still walk you through it. Read on below to learn how to place an order for a custom watercolor portrait.
Canvas Print
If you'd like to get your personalized watercolor portrait printed on a canvas, simply visit the HomeHaps website to get started. Just choose the size you want and follow the prompts to select your desired image from your files. Then simply press the button to confirm your order, and you're all set!
Once your image has been converted, you'll receive a preview of what it should look like. Once you approve the image, your canvas will be printed and shipped out to your location in no time. 
Digital
If you would rather not have HomeHaps send you a canvas, you can opt to have the file sent to you digitally instead. When you place your order, just click the option that says "Digital (NO SHIP)," and then follow your prompts to upload your image and confirm your order. 
After the approval process, you will be sent a high-quality JPEG file of your portrait, which is yours to print independently. 
How Do You Make Sure the Photo Comes Out Well?
In order to ensure that the finished portrait looks as perfect as it can be, there are a few easy steps you should follow when uploading your image.  
First, make sure the photo is high-quality so that the final image comes out clear and easily discernible. Next, make certain the subjects' heads, shoulders, and arms are clearly visible in the photo and not cut off at the borders. Finally, please don't make any attempt to crop the image out of the background before you send it. HomeHaps will take care of that process for you!
How Long Do Orders Take to Ship?
The length of time it takes for your printed canvas to arrive at your address depends on the delivery option you choose. For ground shipping, it should take approximately five to seven days from the time it is sent out. For express shipping, it will be closer to one to three days. 
Can You Preview the Image Before it Prints?
You'll be sent a preview of your portrait before your canvas is printed. If you need anything to be revised, HomeHaps will happily oblige for a small additional fee.
What if You Can't Choose Just One Photo?
No worries! HomeHaps can also combine multiple photos into one portrait for a modest upcharge. 
Order the Perfect Personalized Gift Today!
Now that you know all of the benefits a custom watercolor portrait can bring you and your loved ones, and how easy it is to order, you have no excuse not to get one of your own. Whether you want to use it as home decor or give it as a personalized gift, it's sure to be a purchase you won't regret.