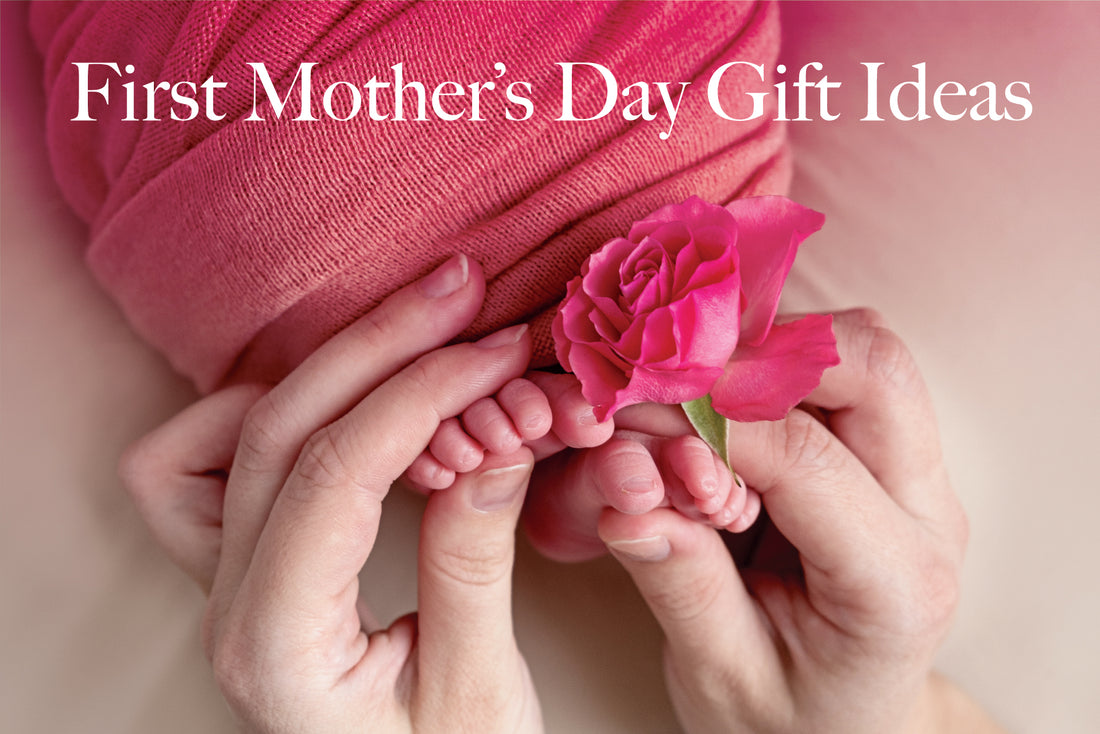 The Best Mother's Day Gift for Any New Mom
New Mom Gifts And The Best Gift Ideas For Her First Mother's Day
If your loved one is a new mom, Mother's Day will be one of the most memorable days on the calendar for her. This is the first time they will experience this holiday in their new role as a parent, and because of this, it's important that the day is properly celebrated.
So, if you want to give an incredible gift but you don't know where to start, we're here to help. Here are our top Mother's Day gift ideas: 
A Quick History of Mother's Day
Festivals honoring mothers and goddesses date back thousands of years. But the Mother's Day that we celebrate today originated over 100 years ago in Philadelphia after resident Anna Jarvis set up a memorial day for her late mother. Every year the memorial service was observed by an increasing number of states, and in 1914 President Woodrow Wilson made it a national holiday.
Taking place on the second Sunday in May, Mother's Day today is a time for remembering different kinds of mothers – from those mothers lost to people who have played mothering roles to fathers who have had to be both parents and more. It's a special day for a new mom to celebrate their baby and the long journey that's brought them to that moment in time.
Why It's So Special for New Moms
Although being a parent never stops being unique, there is something special about being a new mom. Everything is new and exciting, and sometimes even a little frightening. Whatever your age, being a Mom is a time of discovery and adventure.
So if you want to buy your loved one or bestie some wonderful new mom gifts, it can be a hard decision. You'll want to make sure the gift shows the affection and happiness you feel towards the mom you know.
7 Ideas for New Mom Gifts
In this list we break down seven fantastic Mother's Day gift ideas. Every new mom is different, but these gifts are likely to suit everyone.
1. Watercolor Portrait
Watercolor portraits are a unique and deeply special gift. At HomeHaps we take any photo and turn it into a watercolor portrait that is printed on a premium quality canvas, then stretched over an MDF stretcher frame. Each portrait also comes with a free hanging kit so it can be hung minutes after opening! 
They make great new mom gifts as they mean you can commemorate this special time for your loved one. This portrait will last a lifetime, so years later, your loved one will still be able to enjoy this gift.
2. Photo Blanket
Every New Mom is going to be taking hundreds of pictures of their baby. So a wonderful Mother's Day gift is taking this to the next level with a more sentimental gift. Depending on the personality of your loved one, you could opt for a watercolor portrait on canvas or a photo blanket, but both will enhance the way your loved one can cherish those special moments as a mother.
Photo Blankets are great for loved ones who love sentimental gifts and enjoy the memories they've gathered of their baby a long the way from the day he or she was born to today.
3. Acrylic Wall Calendar
Brain fog is a common outcome of becoming a new parent. It's only a temporary phase but in the meantime, helpful new mom gifts for your loved one can include items such as a planner or calendar much like our acrylic wall calendar.
There are so many types of planners to choose from, but nothing compares to a reusable perpetual calendar that can be personalized to the new mom in your life's needs. Our acrylic wall calendar is aesthetically pleasing and can be personalized with a menu, to-do list, grocery list, notes, family name and more!
4. Family Photo Collage
A family photo collage portrait is a great way to take all of those new baby pictures and place them onto one beautiful canvas for a new decoration for the new mother's home.
Every new mom loves capturing each moment of firsts for their child and placing them all onto a portrait in the shape of the letters MOM will really make her feel special this Mother's Day!
5. Face Oil
A high-quality face oil makes for a brilliant Mother's Day gift. It's unlikely that your loved one is going to have the time to get a facial anytime soon, so why not bring the facial home to them?
As far as new mom gifts go, these face oils might not be practical, but they are still extremely helpful. There are a range of face oils on the market targeting different issues – for example, some are rejuvenating, some are anti-aging and some are for smoothing. Whatever option you go for, it will seep into the skin, giving your loved one that covetable fresh glow.
6. Nursery Wall Decor
If the new mom in your life is currently decorating a nursery room, then a nursery wall decoration is the perfect thoughtful gift. You can either get them a motivation quote such as a live laugh love wall set, a watercolor portrait of their newborn or a set of illustrated animals to hang up in their nursery. 
7. Baby Keepsake Library
A baby keepsake library is an easy and aesthetically pleasing way for a new mom to document all their baby notes, cards, advancements, and events. The first year of a baby's life goes past in a flash, so these keepsakes are a brilliant way of keeping track of everything that happens over the year.
New mom gifts like these can be extremely meaningful as your loved one will be able to personalize the library. Not only does it become a memory bank and photo album, but it is something they can share with their child in the future.
How We Make Your Watercolor Portraits
There are few new mom gifts more timeless and precious than a watercolor portrait. If you're intrigued about how we turn your photos into watercolors at HomeHaps, this quick guide will break it down for you.
Firstly, upload the picture that you'd like us to recreate and place your order. Then 2-3 days later we will a preview to get your approval and we send ship it out to you. It's as simple as that!
The Round-Up
After reading this guide, you should now have a ton of ideas for some new mom gifts. There are so many ways to help celebrate and spoil your loved one on their first Mother's Day.
Whether you want something personalized like a watercolor portrait or something more functional like an acrylic calendar, the mom in your life will love their gift. And, these are all affordable gifts which means no one will feel left out and you can get a little something for every special mom in your life.
For more information about our Watercolor Portraits, take a look at Why Custom Watercolor Canvas Portraits Make The Perfect Gifts