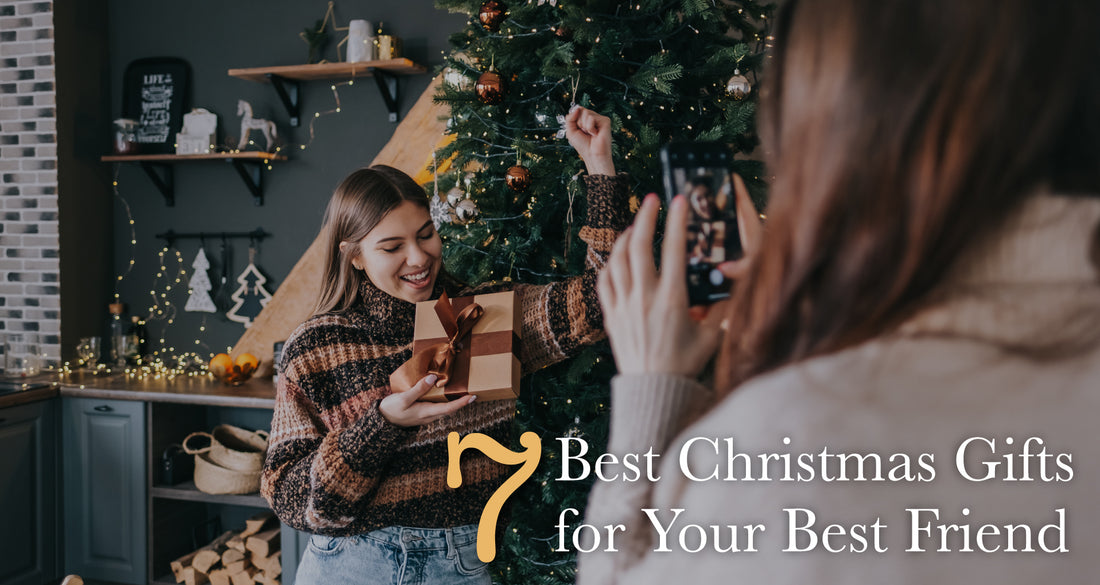 7 Best Christmas Gifts for Your Best Friend
Christmas is coming soon, so why not plan your gifts ahead and give your best friend something special this year? We know how hard it is to plan for gifts especially if your friend seems to have everything. But don't fret! We've lined up some great Christmas gift suggestions that will make your best friend smile and feel appreciated whether they are a man or a woman! 
A Personalized Coffee Mug
Just about anybody and everybody uses a coffee mug. Whether they drink coffee, tea or make a nice hot cup of hot chocolate after a long day out in the cold. So it's no wonder a coffee mug would make a great Christmas gift for your best friend but not just any coffee mug but a mug that is personalized to them! 
Did you know 7 out of 10 Americans drink coffee? Chances are your best friend is a coffee drinker as well! However even if they aren't, this gift is perfect for even the everyday tea drinker. A personalized coffee mug is not only a great gift but a great way to add sentimental value to your average everyday mug. There are many types of personalized mugs to choose from. When choosing a mug that will suit your friend best, think of whether you would like the mug to have a picture of you and your bestie or a personalized quote. Whatever you choose, this gift will  sure to make them feel special this holiday season.
A Gift That Will Last Forever
There's nothing better than giving your best friend a thoughtful gift that he or she will use every day. From a new pair of earrings to a fun new book they'll be sure to use it until it wears out. But what about a gift that will last? The best gift to give is "the gift that will keep on giving". Most gifts are used until they are worn but a Custom Watercolor Portrait is a gift that will last a lifetime. 
This portrait is made with a quality canvas material and premium inks that will last for years to come. Turning their most precious memories into a work of art is not only a long lasting gift but a gift that shows a lot of thought went into it. Not to mention it's the perfect gift for the bestie that is a pet lover as well! 
A Beautiful Leather Journal
If your best friend loves planning or writing in a daily journal then a leather journal will make a great Christmas gift for them. There are so many great ideas for a journal. Anywhere from a personalized journal that has their name to a classic leather journal. 
Either way a beautiful leather  journal will make an excellent Christmas gift for your best friend. Whatever journal you choose, make sure it features a beautiful leather cover and comes with a pen so he or she can write down their  thoughts or plans whenever they want. 
A Self Care Basket Made By You
What better way to show your best friend you care for their needs by creating them a homemade self care basket? These baskets don't only have to be for a bestie that is a woman but they can also be great as a gift for men as well. These baskets should be  filled with items that help them  feel better when they're feeling stressed or overwhelmed and just need a little pampering. 
Some common item ideas to include in the basket are:
Facial Masks

Candles

Tea

A Humidifier

Self Help Book

A Fidget Cube

Bath Salts

A gift card

And much more
The ideas are endless! Whatever you choose to go in the basket, just be sure to think about their favorite things and include them in the gift basket to make it truly unique to them.
A Custom Money Canvas
If he or she loves anything and everything about money, this one hundred dollar bill portrait featuring their face and name will make the perfect Christmas gift for your best friend. With its quality material and multiple size options, this canvas will be sure to last a lifetime and fit in just about any space they choose to display it. This canvas is a great gift that can be displayed in their office, living room or bedroom! 
An Instagram Photo Collage
A photo collage is an easy way to make a lasting impression on your friends for a memorable Christmas gift. Creating a photo collage is simple and fun to create! When creating a photo collage gift, we suggest selecting your favorite photos from your best friends instagram page (or favorite photos of you and them) and collage them onto a frame or shadow box so that they can keep it forever. The photos you choose can be photos taken by yourself or others, and you can also add text to each photo to personalize them.
A Photo Blanket
With the cold weather, what better gift than a blanket! But not just any blanket.. A blanket that is personalized with a photo that they love! There are so many great photo blankets any just about any should do, but our favorite is a blanket that is turned into an art piece. Much like the watercolor portrait, a watercolor blanket is a great way to transform an ordinary photo into an art piece your bestie can cozy up to!
If your friend is not into an artistic style, then a photo blanket that features a collage of images will make a great gift as well. Either way as long as the gift shows thought and is personalized to them, they will be sure to love it!
Conclusion
Christmas shopping for gifts can be stressful for anybody but with our gift guide and tips on choosing the best gift, this guide should help you be a step closer to selecting a Christmas gift that will make your best friend feel extra special this holiday. Whether you give them a personalized watercolor portrait or a self care gift basket, they will be sure to love their new gift! Whatever gift you choose,  it is most important to think about what matters to them most and to have fun with the whole process. From choosing the gift to giving the gift!
For more Christmas gift ideas, check out or 5 Great Ideas of What to Get for My Mom This Christmas