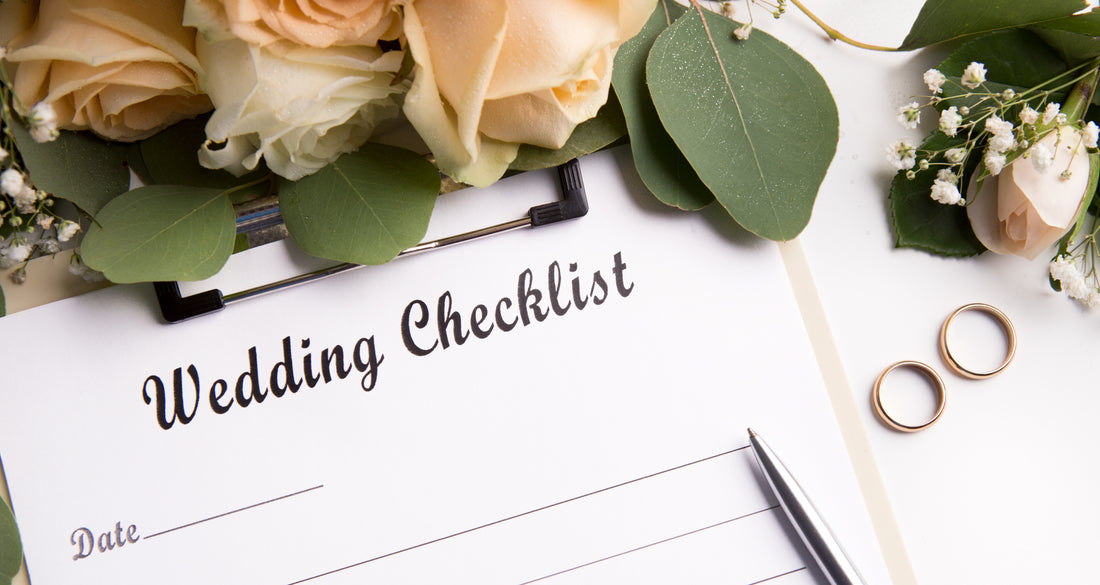 A Wedding Reception Planning Checklist for Your Big Day
Planning a wedding can be stressful, especially when you're trying to keep costs down while still creating something special for your guests. We'll walk you through everything from choosing a venue to planning a menu that will wow everyone on your big day. 
You've got a lot going on during the planning process, so it's easy to forget some of the smaller details. To help you stay organized, we've put together a
wedding checklist
of things you need to do before you start planning your wedding reception.
Create A Budget
You might think that planning a wedding takes months, but with our tips, you can plan and execute a successful wedding reception in just a few weeks.
Start by making a budget and then break it down into smaller categories so you can see exactly where each dollar goes. Then, start looking for venues that fit your needs and preferences. Once you've found one, make sure you check out its policies and procedures before booking.
It may seem as though you would need to spend thousands of dollars to throw a memorable reception, but there are many ways to make sure that you're not spending too much money without sacrificing quality.
Look into venues that offer packages with different options so you can choose what works best for you. Then, consider hiring a professional caterer who specializes in weddings to help you plan a delicious meal that won't break the bank.
You've probably heard the saying "a penny saved is a penny earned." That's true for weddings too! By planning ahead, you can save money by making sure you have enough funds available to cover any unexpected expenses.
Select A Venue
While looking for a venue, be sure to make a list of all of your favorites. Regardless of cost, restrictions or location. Then, once you have created your list, go through a process of elimination and remove any that won't work for you and your spouse based on the factors you have set out.
During the elimination process it's helpful to think about whether you want a large wedding or small wedding as well as the type of food and music you will be hosting.
For a large wedding party, consider renting a venue that has space for everyone. This will help ensure that no one gets left out.
While choosing, keep in mind the kind of music you'd like played at the reception. If you're having a DJ, ask them what kind of equipment they use and whether they offer any special services.
If you have gotten down to the last two venues and you're having trouble deciding between the two potential venues, consider what features are the most important to you:
Do you need a venue that will accommodate large groups or do you prefer intimate settings?

Are you interested in a formal or casual atmosphere?

Is there something else you'd like to incorporate into your wedding?
These questions will help you narrow down your options.
Decide on a Theme
Choosing a venue is the hard part of the process but choosing a theme is one of the funnest and most memorable parts! (besides the wedding day of course) 
While planning your wedding be sure to choose a theme for your reception based on what kind of atmosphere you want to create. Such as, if you're planning a formal affair, you might opt for a classic black-and-white color scheme. However, if you'd prefer something more casual, you might go with a bright color palette.
For instance for a summer wedding you might consider using colors that are warm and bright such as peach, yellows or tan colors. 
Either way, there are many factors that contribute to the theme of your wedding. Some questions to consider are:
What season is the wedding taking place?

Where is the wedding taking place? Is it indoors or outdoors?

Is it a destination wedding?

What are you and your loved one passionate about? Is it music, movies, traveling, etc?

Are you into a rustic feel or modern feel?
These questions will help you decide the colors, decorations and much more!
Decorations
Whether your reception is indoors or outdoors, you'll need to make sure everything is set up properly before guests arrive. To begin, start by thinking about the decorations you want to put up to match the theme you have selected. 
Here's a checklist of things to consider when choosing your decorations:
Choose a color scheme that matches your wedding theme

Create a list of decoration "must haves"

Create a mood board using images of weddings you've attended or magazines featuring beautiful receptions.

 Look at photos of other people's weddings to see what works well for them

Think of the type of flowers you would like

Choose decorations based off of the theme you selected
One of the most important elements of the wedding decorations are flowers. They add a beautiful touch to any table setting and will last throughout the entire party. Just be sure to select flowers that match your color palette and theme. 
Some other great ideas for wedding decorations include candles, stringed lights (for indoor or outdoor venues), tablecloths, chandeliers and marquee signs. 
Another great decoration idea to consider is a Wedding Welcome Sign. A "Welcome To" wedding sign is perfect for welcoming guests to the wedding ceremony and wedding reception as they feature the names of the couple and their wedding date! 
Food and Drink Ideas
Now that you have set your budget, chosen a venue, selected your theme and prepared your decorations, it's time to start thinking about the food to accompany the party!
There are so many food options but where do you begin?
First and foremost, it's best to think about your theme and the type of food you and your partner love! You've got plenty of options for what to serve at your reception but if you're looking to keep your guests energized throughout the evening we suggest serving bite sized hors d'oeuvres. 
Once you have chosen the types of foods you are looking for, start looking for a caterer that will accommodate your needs. 
Not only is it important to think about the food you'll be serving but it's also very important to think about that most famous wedding cake!
Choosing a cake can be difficult but once you have selected the flavors, start thinking about your color scheme and theme to put together a design for the cake.
Most bakeries will have a list of images in their portfolio of their cake designs but if you need some better inspiration consider looking through Pinterest for some great ideas. Chances are you'll find a design you'll both love!
Last but not least, think about the types of drinks you'll serve. Of course it's always best to start with the basics; water, soda, juice, tea and coffee for those who cannot drink or choose to take things easy.
However, for those who choose to drink, think about whether you'll have a full bar so guests can choose their drink of choice or if you'll have special curated drinks for them to choose from.
A wedding reception
is a big party to plan for but with these tips and tricks you will be well on your way to planning the perfect wedding celebration for your big day!